Do you love to sing in the shower? But hate the thought of your phone getting wet? If so, then you're in luck! There are a number of great portable Bluetooth speakers on the market that are waterproof, so you can sing your heart out without worry.
What are the Waterproof Bluetooth Speakers?
IPX7 waterproof standard means that the speaker can handle being submerged in water up to 1 meter (around 3 feet) for about 30 minutes. So if you accidentally drop it in a pool or a bathtub, it should be okay as long as you retrieve it within that time and it doesn't go deeper than 1 meter.
IP67 waterproof standard, The speaker can also handle being submerged in water, but it can go deeper than Device A. In fact, it can be submerged up to 1 meter (around 3 feet) for even longer than 30 minutes, and it should still work fine.
Top 5 portable waterproof Bluetooth speakers in this review:
Sony SRS-XB23 $89.99
Anker
Soundcore 3
JBL Clip 3/4
Bose SoundLink
Micro
Ultimate Ears
WONDERBOOM 3
Sony
SRS-XB23
Price
$40 (coupon)
$49.95
$99
$79
$89.99
Weight
13.1 oz
8.5 oz
10.2 oz
0.9lb
1.3lb
Waterproof
IPX7
IP67
IP67
IP67
IP67
Bluetooth
5.0
5.1
5.0
5.0
5.0
Battery Life
24 h
10 h
6 h
14 h
12 h
The Anker Soundcore 3 is a versatile Bluetooth speaker that delivers impressive stereo sound. Built with pure titanium diaphragm drivers, this speaker also boasts PartyCast Technology and BassUp for an enriched audio experience​. You can get it with regular $10 off coupon.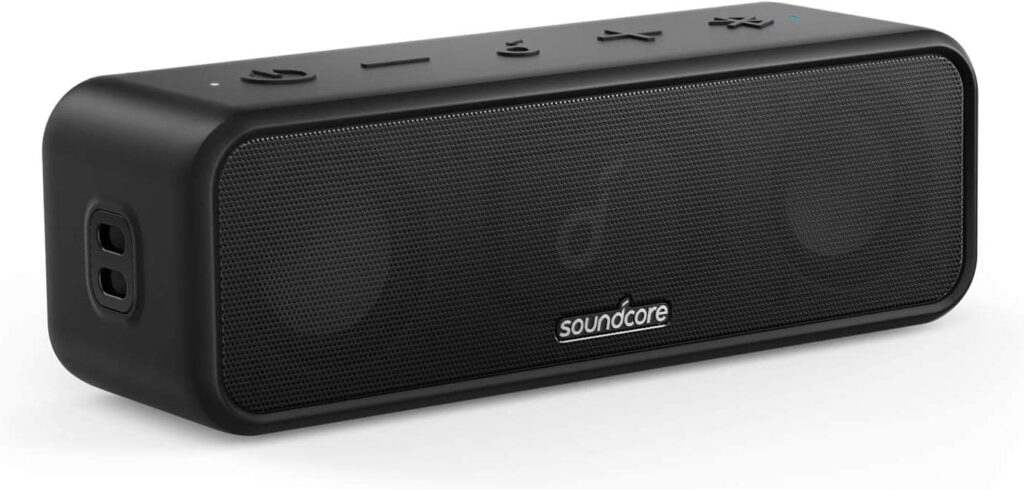 Pros:
High-quality sound with stereo effects
Long-lasting battery (up to 24 hours of playtime)
Waterproof design (IPX7 rating)
Cons:
No LED party Light
conventional design
Positive Review: One user expressed their love for this speaker, praising its size, sound quality, and the ease of Bluetooth connectivity. The user also appreciated its long-lasting battery and waterproof feature​.
The JBL Clip 3 or Clip 4 (updated version) is a compact and affordable little powerhouse. Its integrated carabiner is a distinctive feature that lets you hang it anywhere, including your showerhead, and it comes in a variety of funky colors to match your style.
Pros:
Exceptionally portable and rugged
Impressive sound for its size
10-hour battery life
Cons:
Bass could be stronger
No track controls
Positive Review: One customer gushed, "This little speaker packs a punch! It's perfect for my morning shower concerts. The sound is crisp, clear, and loud enough to drown out my questionable singing."
The Bose SoundLink Micro is a compact powerhouse that delivers on the Bose promise of high-quality sound. Its size is deceiving, as it packs a punch that will fill your bathroom with clear, balanced audio. This tiny dynamo is fully waterproof, with an IPX7 rating, making it the perfect addition to your shower singing sessions.
Pros:
Outstanding sound quality for its size
Fully waterproof with an IPX7 rating
Durable strap for easy hanging or attachment
compact size
Cons:
Higher price point
Shorter battery life compared to others on the list
Positive Review
"I'm blown away by the SoundLink Micro. It's small but mighty, and the sound it produces is pure Bose quality. It's perfect for my morning shower jam sessions!"
The Ultimate Ears WONDERBOOM 3 is a small, spherical speaker that delivers big, bold sound. It has an IP67 rating for dust and water resistance, making it perfect for the shower and beyond.
Pros:
360-degree sound
Durable design
13-hour battery life
Cons:
No speakerphone functionality
No aux input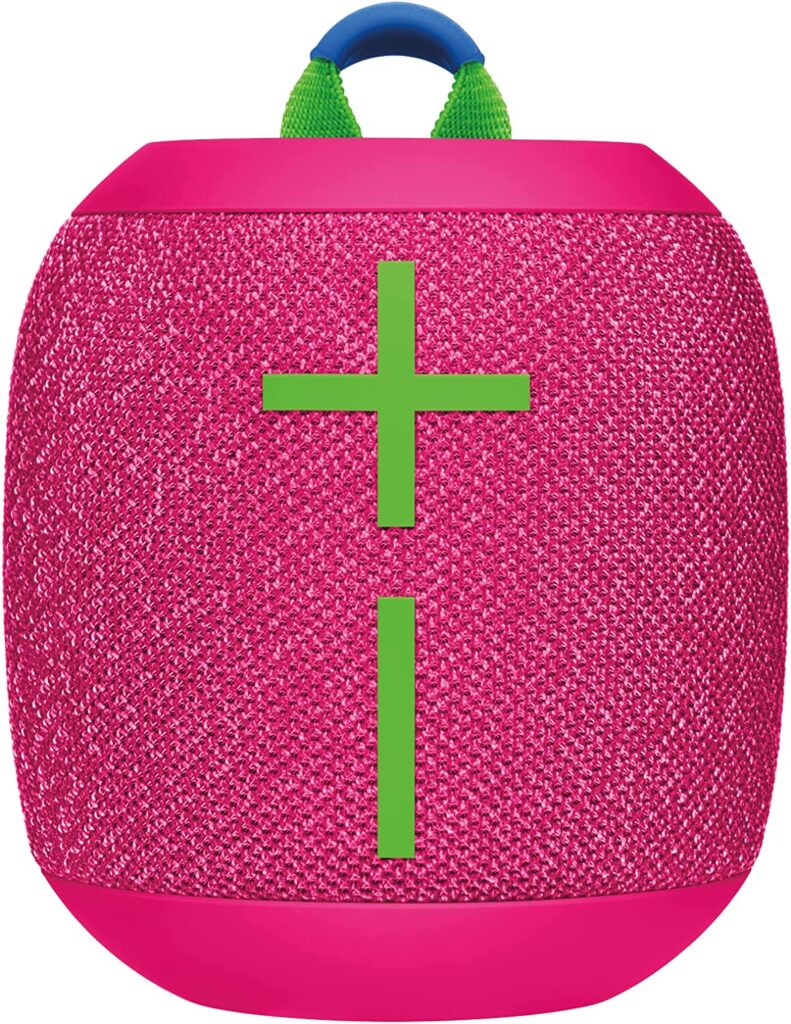 Positive Review: An elated buyer wrote, "The WONDERBOOM 3 has become my go-to speaker. The 360-degree sound fills my bathroom with music. Plus, it's tough enough to survive my clumsy hands. Love it!"
The Sony SRS-XB23 is a cylindrical Bluetooth speaker that offers a compelling combination of sound quality, portability, and durability. It's designed to provide extra bass and can be submerged in water, making it perfect for a shower jam session.

Pros:
Extra bass for a rich, deep sound
Compact and durable
Can connect with other speakers for a stereo experience
Cons:
Bass may overpower at high volumes
Battery life decreases significantly with extra bass on
Positive Review: A happy customer shared, "The Sony SRS-XB23 is a game-changer. The bass is phenomenal, making every song feel like a live concert.
When it comes to singing in the shower, the soundtrack matters, and these four waterproof Bluetooth speakers are your ticket to an unbeatable bathroom concert. The JBL Clip 3's compact size and impressive sound make it a trusty companion, while the Bose SoundLink Micro's superior sound quality justifies its slightly higher price tag. For those seeking a 360-degree sound experience, the Ultimate Ears WONDERBOOM 3 is a tough contender to beat. And if bass is your thing, the Sony SRS-XB23's extra bass feature will rock your world. For people are in budget Anker Soundcore 3offers are good choice that won't break the bank.
Remember, the best speaker for you will depend on your personal preferences. Consider factors like sound quality, battery life, portability, colors, and extra features when making your choice. Happy shopping, and even happier shower singing!